The Nightman Cometh: A Revolution
A new musical tour will be debuting in New York City, Boston, Seattle, San Francisco, Los Angeles, and Philadelphia. The musical? "The Night Man Cometh". If you haven't heard of this play it's because this show is not your typical broadway show. "The Night Man cometh" is actually an episode of the FX show It's Always Sunny In Philadelphia. The musical comes from an episode called "The Nightman Cometh" where the gang puts on a musical.
FX warns that tickets are expected to be sold out very quickly due to the extremely high demand from a devoted T.V. audience.Click here to buy tickets.
The show is so popular in fact that there are dozens of user submitted Youtube videos with It's Always Sunny songs from the Night Man Cometh episode. Here are just a few great remakes and covers of Dayman and The Night Man.
Compilation Video
Dayman Fighter Of the Nightman By OrenAi
Dayman, Nightman Cometh. by relytkad
Dayman Performed By Of Montreal
Original Videos (NSFW)
Nightman (the start of it all)
The Beginning of Dayman
Electric Dream Machine
Full Episode
The Nightman Cometh: Inside the boys hole
The Shirts
The "Sunny" craze has continued into merchandise, most notably of which are these awesome It's Always Sunny in Philadelphia shirts.  And some more cool shirts here.

Videos and shirts aren't the end of this craze, there are plenty of ringtones (and more ringtones), desktop backgrounds, guitar tabs and more.
GREEN MAN!!!!!!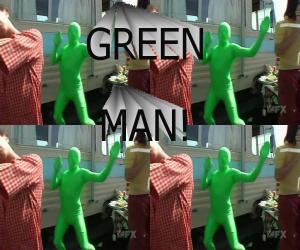 Original Clip